The verdict has been reached in the dispute over the rights to the GORGOROTH band name involving vocalist Gaahl, bassist King ov Hell and the group's estranged guitarist Infernus.


Infernus (real name: Roger Tiegs) filed a lawsuit against King ov Hell (real name: Tom Cato Visnes) in September 2008 claiming that King (the sixth bass player in GORGOROTH's history) went behind his back in September 2007 and secretly applied for trademark protection of the GORGOROTH bandname and logo, which Infernus had been using since 1992.


A posting on Infernus' MySpace page reads as follows: "Oslo City District Court has today [Tuesday, March 10] delivered a verdict on the main question in the GORGOROTH trademark case, which took place at the end of January 2009. The court has decided that King ov Hell's trademark registration #243365 of the band name GORGOROTH is NOT valid and shall therefore be deleted. The court states that King ov Hell and Gaahl excluded themselves from the band GORGOROTH when they tried to fire Infernus in October 2007. The court further states that Infernus cannot be excluded from GORGOROTH, unless he himself decides to quit. Infernus is very pleased, but not surprised, by this verdict. The remaining issues concerning financial matters and such are yet to be decided upon."

The witnesses that testified in court — besides Infernus, Gaahl and King Ov Hell themselves — during the January 28-30 trial in Oslo, Norway were as follows:

* Torgrim Øyre (former GORGOROTH member, booking manager at Hole In The Sky Festival)
* Anders Odden (ex-CELTIC FROST, CADAVER INC.
)
* Tormentor (former GORGOROTH member, now member of the Infernus lineup)
* Espen Solheim Røhne (Norwegian distributor Indie Distribution, who has sided with Gaahl and King Ov Hell)
* Per Gyllenbäck (Regain Records, who has sided with Infernus)
* Asbjørn Slettemark (from Norwegian music industry magazine Faro Journalen)
* Gro Narvestad (Inferno Festival)

In a recent interview with Hungary's Fémforgács webzine (conducted in January), Infernus stated about the legal battle between him and his former bandmates, "I do not consider it as a war. It was basically King ov Hell who went behind my back and, in September 2007, secretly applied for a trademark ownership of the band name and logo at the Norwegian Industrial Property Office. Thereafter they have been commercially exploiting the name for whatever it was worth. Now I am suing him, and the vocalist as well. Whatever reasons they might have had to do what they did is to me of complete irrelevance. If they were not happy working together with me, they could have gone and started their own band, easy as that. . . I don't care what they have to say. They for sure have had their time in the media lately. And they will be having a chance to repeat that in court."
http://www.gorgoroth.info
Current Mood:

busy

Current Music:

Dimmu Borgir - "Kings of the Carnival Creation"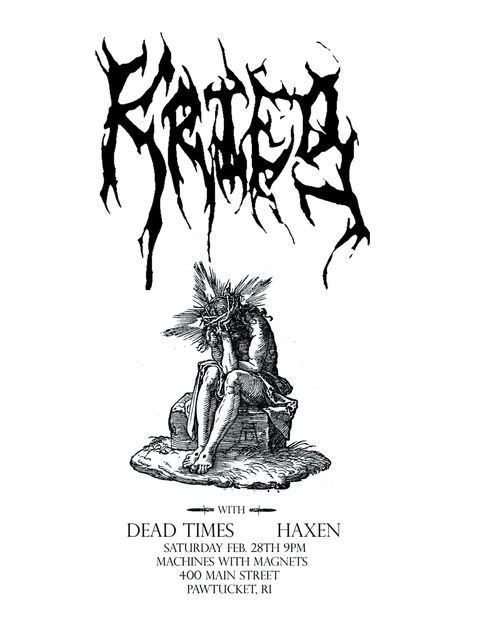 Current Mood:

lazy

Current Music:

Cannibal Corpse - "Evidence In the Furnace"
w/Haxen & Dead Times
@ MACHINES WITH MAGNETS
400 MAIN STREET
PAWTUCKET,RI
9PM $8
March 1st Brooklyn NY
Feb 28th Pawtucket Rhode Island
Anyone in the Los Angeles area going to the Satyricon show this Wednesday? It's muh birfday so I think I'm gonna try and go for that reason. They are playing with Cradle (lame), but whatever... I hope they play old stuff.
I would use the typical video link crap, but since I am a moron I dont know how they work.
I have a huge heart and felt like sharing these gems of genius from lots of old has beens who think they mean something but just talk psydoshit more then me. Jeff from Possessed and Chronos are the ones who do add the most valid points:
Cradle of Filth being called black metal: "No I call them crap"
Jeff saying hello: "RAAAAAAGHHHHHH!!!! WAAAAGHHHHHHH!!!! KILL YOUR FUCKING GRANDMA!!!!"
Even in a wheelchair, jeff is mentally leagues ahead of King ov Anorexia from Gorgoroth.
And to think 9 years ago even the thought of a SINGLE black metal documentry was just not very probable. How many of the damn things are out there these days?
(i didnt cut this cuz i didn't think it was very long..? if i should, let me know :)
1. my name is jesse, and i live in los angeles, california.
2. i am female.
3. i'm blonde (kind of), hazel, 5'5, 115 lbs.
4. i work in the fashion industry for a bad-ass leather company called SkinGraft Designs (www.skingraftdesigns.com for further info). we rule.
5. i like metal, but mostly listen to black metal because after growing up in a catholic/ christian environment, i've begun to loathe the church. and what better music to listen to than music which has history in church burnings.
6. i've liked metal since an early age. anyone who has lived in l.a. a loooong time should remember pirate radio. that was my favorite station when i was a kid. like 5 years old. no joke.
7. i support music sharing. i think the music industry needs to compensate and come up with other ways to make money if album sales aren't cutting it. actually, if anyone is interested in music trades, let me know :)
8. uhm... my favorite BM bands as of now are (and this is always changing):
deathspell omega
drudkh
wolves in the throne room
darkthrone
old satyricon
enslaved
celtic frost
burzum


i like a lot of old stuff.




feel free to school me on bands i should listen to. i like learning.



oh, and nice to meet you:)
HI. im going to introduce myself because this community looks like it could use some kind of stimulation. im also going to introduce myself because im drunk, bored, and alone at home.
I'm starting a new band and as I write the songs my riffs are turning out to be quite nordic sounding and really catchy. I'm taking a lot of influence from early Satyricon, Storm, Otyg and even Troll. I havent really listened to this stuff much in the last ten years or so though, so I feel like I may have missed out on some similar stuff. I wondered if you could recommend stuff that I may have missed out on that falls within the following criteria: anthemic, mid-paced, harmonious, simplistic, catchy guitar work with less of a focus on melodicism, dissonance or any other forward thinking styles.


Horna - Sanojesi Äarellre
Leviathan - Massive Conspiracy Against All Life
The Black - Alongside Death
Deathspell Omega - Chaining the Katechon
Baptism - Grim Chants of Melancholy
Misery's Omen - Hope Dies
Virus - The Black Flux
Dead Congregation - Grave of the Archangels
Morbosidad - Profana la Cruz del Nazareno
Darkspace - III
Lets see some lists people. Anyone get the new Nightbringer yet? Full Moon is taking their sweet time to ship my pre-ordered copy, grrrrrrrr. Anyways (in no particular order):